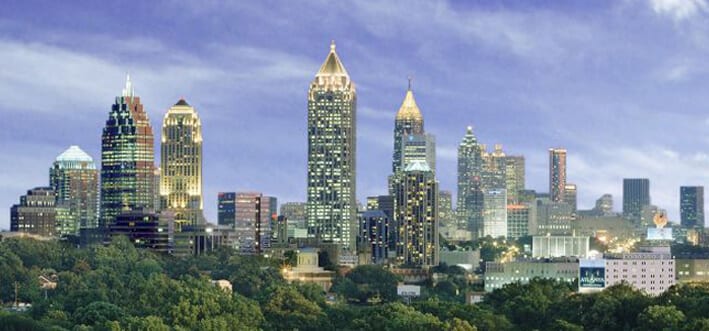 Professional Atlanta Motivational Speaker
Doug Dvorak creates an ambiance like no other Atlanta motivational speaker. He brings the perfect balance of energy that your organization needs to develop new sustained motivational practices. By following a rigorous formula to prepare for his upcoming presentations or workshops, he is able to cover the areas and topics that the organization he is speaking to needs covered. Every presentation Doug gives is carefully hand crafted to ensure the audience's attention is captivated so as to ensure a successful outcome.
Atlanta Sales Speaker
Doug Dvorak also concentrates a lot of his time and energy on developing sales workshops and keynote programs that help provide sales forces with new ideas, motivators, and solutions to improve their sales team, sales management, and structured sales process. Having spent 15 years in sales as a senior level executive with firms such as IBM, Intel & WorldNet, Doug uses his experience in sales and speaking to deliver one of a kind sales speaker keynotes and workshops in Atlanta Georgia. Doug will bring the most value to your next sales meeting or conference.
Atlanta Leadership Speaker
When it comes to leadership, Doug lives the role, owning several small businesses and mentoring young adults and sales professionals in his day-to-day life. His presentations and workshops more like coaching and training than speaking.
Atlanta Keynote Speaker
Doug has dedicated the last 20 years of his life to studying motivation, sales and leadership in order to provide keynotes and workshop programs around the world that are second to none. Presenting these impactful and custom programs/presentations to over 1,000,000 people has been a great honor and journey for Doug. Furthermore, Doug is a recognized motivational keynote speaker that has been inducted into the Motivational Speaker Hall of Fame. Doug also holds the CSP (Certified Speaking Professional) accolade, earned through his NSA membership. Only about 10% of NSA members hold this prestigious speaking designation.
Doug Dvorak Presenting a Motivational Keynote in Atlanta Georgia
August 13, 2008 – Mega Motivation with a Twist Program  – 60 Minute Opening Keynote Presentation
"Doug delivered an awesome, customized, inspiring motivational keynote speech to the faculty & staff of
Southern Polytechnic State University.  I was particularly impressed by the amount of research Doug did to truly customized his content & message.  He was an overwhelming success."
Dr. Ron Koger, Meeting Planner
Southern Polytechnic State University
General Information on Atlanta, Georgia for Conference Delegates
Atlanta is the capital of Georgia with a population of 447,841 (as of 2013). Some of Atlanta's landmarks include Martin Luther King Jr. Center, Centennial Olympic Park and Underground Atlanta. Atlanta is a major television hub as both TBS and CNN were both established here by Ted Turner. Atlanta is home to the busiest airport in the U.S. because it is only 3 hours from many major American cities. Atlanta also ranks third in terms of having the largest concentration of fortune 500 companies.
Atlanta Conference Centers
Atlanta Conference Center is home to over 500,000 square feet of conference space and also hosts over 1,100 connected hotel rooms.
Address: 240 Peachtree Street NW Suite 2200, Atlanta, GA 30303.
Georgia World Congress Center is made up of 3 buildings that create an astounding 3.9 million square feet of conference space in the heart of Atlanta.
Address: 285 Andrew Young International Blvd., NW Atlanta, Georgia 30313.
Atlanta Attractions for Conference Attendees
Atlanta Restaurants Located Downtown
Goodie Burger
A must try, all outdoor burger joint located downtown in the middle of Centennial Olympic Park. Great for large groups!
The Varsity
61 North Avenue Atlanta, GA 30308.
Visit the world's largest drive-in, which can accommodate over 800 people!
Park Tavern
500 10th St. NE Atlanta, GA 30309.
This ritzy restaurant features a full sushi bar and is a bit higher quality. It is a beautiful restaurant set on golf course, but you don't have to be a member!
Contact Doug to facilitate a free 1-hour consultation for your company or organizations next event, conference or gathering. Want to learn more about the man behind the mask? Meet Doug Dvorak.