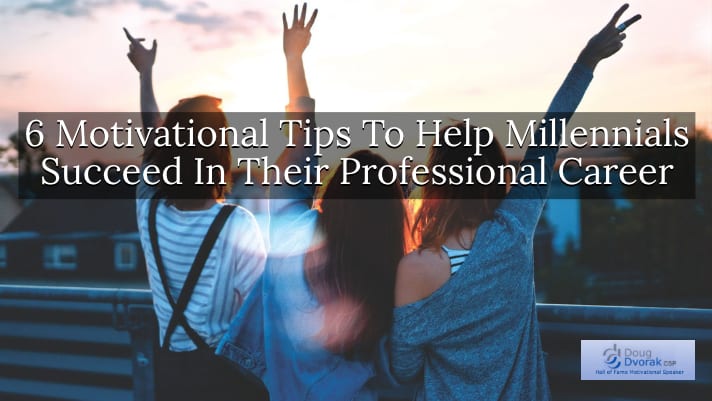 6 Motivational Tips to Help Millennials Succeed In Their Professional Career
Motivational Tips To Help Millennials Succeed in Their Professionals Career
Millennials are fast becoming the largest generation in the United States. According to the Pew Research Center, the number of Millennials will officially overtake the number of Baby Boomers in the USA in 2019. They define Millennials as those people between the ages of 20 to 35 in 2016, with numbers in excess of 73 million. There is a lot of information out there about the lack of apparent motivation this group exhibit in their professional careers. In fact, it may not be that millennials lack motivation, but rather a case of trying to use incorrect forms of motivation. The following tools, strategies, and motivational tips will help millennials succeed in their professional career:
Related Reading: 3 Keys to a Winning Motivational Attitude
Know the goals

An effective motivator for Millennials is to have a clear picture of what they want to achieve in a particular job, then create that opportunity. Coaching and mentoring can be outstanding tools to achieve this motivation.
Create a challenge

Learning, trying new ideas, and thinking outside of the box are all seen as critical motivational tips that will help millennials succeed in their careers. As a group, they are unmotivated in careers by predictable, boring and repetitive jobs.
Build in professional development

 Implementing a process for millennials to learn on the job, continually improve, and develop their skills is a critical motivational tip that will help millennials succeed in their careers. Companies that recognize this can provide the training and growth opportunities their Millennial employees are looking for.
Look for workplace flexibility

Building in remote work opportunities and not having rigid structures around office hours, when possible, is an effective motivator for Millennials.
Of course, as with all people, the feeling of accomplishing something in their career is another important factor. Goal setting opportunities, support in achieving those goals and having work that is relevant and meaningful is always important for the Millennial employee.
Allow Doug the opportunity to give your group or team a motivational and inspirational boost. Doug Dvorak is one of the world's most sought-after keynote motivational speakers who has trained and impacted over one million people in each of the fifty states and in over 107 countries. 

Visit Doug's website

 for more information.